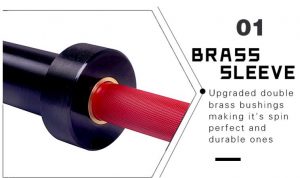 Cerakote is a unique polymer-ceramic composite coating—able to deliver wear and corrosion resistance up to 100X that of standard black zinc.
Cerakote Barbells may look cool, but the corrosion resistance provided by the Cerakote coating is actually a very effective innovation in barbells.
PLEASE NOTE: Ceramic has an excellent resistance to corrosion, but metal-to-metal contact, particular on the sleeves, can still cause wear over time.
For the best long term results, some cleaning and maintenance may be required.