Rawlings Velo FP8V11 Double Barrel Composite
This 2018 Rawlings Velo Fastpitch Softball Bat (FP8V11) features a standard 2 1/4-inch barrel diameter, a lightweight drop 11 length to weight ratio, and a handful of certification stamps. It is approved by ASA, USSSA, NSA, ISF, ISA, and all other associations using 98 MPH with ABI. The VELO series is offered in a fastpitch design that will blow you away.
Thanks to the improvements made on the Comp-Lite end cap, these models have the lightest swing weight ever that helps players catch up to those fast pitch speeds without a problem.
With a two-piece, fully composite construction that combines a stiff handle with a flexible barrel, performance at the plate is optimized for every player. The material used during the manufacturing process is an ultralight carbon fiber that helps improve swing speeds while maximizing durability for a long lasting performance.
There's a reason that the VELO is a constant favorite in dugouts across the nation. If you're a top of the lineup hitter who has mastered the art of getting on base, take control of your swing with the VELO fastpitch softball bat. A full twelve (12) month manufacturer's warranty. Colorway: White/Black/Red. FP8V11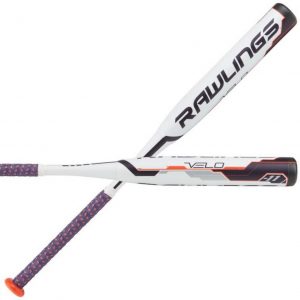 Two-Piece, Composite Softball Bat. -11 Length To Weight Ratio. 2 1/4 Inch Barrel Diameter
Second Generation Fastpitch VELO. Ultralight Carbon Fiber Construction Improves Swing Speed
Comp-Lite End Cap Creates Unbeatable Balance. Balanced Swing Weight
Stiff Handle Combines With Flexible Barrel For Maximum Performance
Approved For Play In ASA, USSSA, NSA, ISF, & ISA
Manufacturer Part Number: FP8V11
For more Baseball products visit at Sportztrack Baseball/Softball Shop